>>May 31st, 2016
THANK YOU to all our ToonHooligans who entered our 2016 CAPTION CONTEST! We got over +150 entries and they were hilarious to read through. The ToonHole crew were reading through, laughing and violently fighting over who we thought might be crowned our winner this year because we had so many good entries.
Without further adieudieu, I want to announce that our winner is PARREIRA!


We've been watching you, Parreira! We know your favorite restaurants, we know how you voted in 2012, and we have your email address. We'll contact you shortly to get your physical address so we can send you the prizes (books, posters, artwork, etc.)!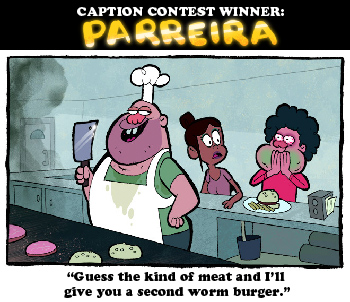 Thanks everyone for playing.
Love,
The ToonHole Gang