It's Thursday and I'm just getting over the weekend hangover enough to throw you guys a long news post. We had a successful, long weekend at the Alternative Press Expo in San Fransisco! We handed out 1,000 books that included some familiar comics but also some BRAND SPANKIN NEW COMICS! Crowd reaction was pretty good. Drop us a line if you're dropping by from APE in the comments!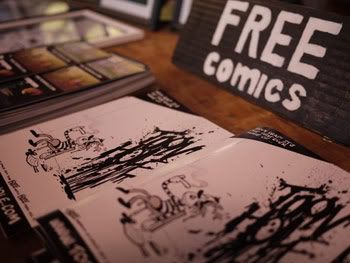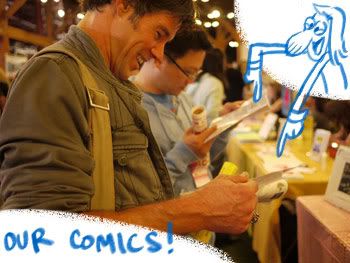 We also sold some prints of comics. Enough to cover our gas and some expenses on the trip! Maybe we should start doing these more often.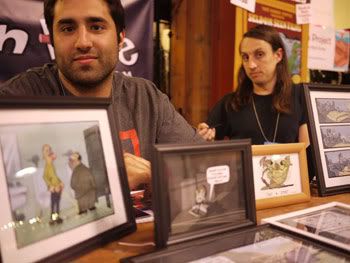 We met a bunch of awesome people! I wanted to give a big shout outs to:
– Thanks to Amanda and Geoff of Devastator Quarterly and Craig from Zombie for being the table next to us and sitting through 2 days of us spouting the same jokes. Two very funny humor mags you guys should check out!
Matt Furie of Boys Club fame. Thanks for dropping and chatting for a bit.
– Ryan Hudson at Channel Ate. Check out some of his animation! Thanks for the shot glass, Ryan! His shot glasses will be in his store soon; buy 20 then have a drink from each one.

– Ali from Rob The Bot dropped a lot of knowledge on me about the webcomics scene. Can't wait to check out his stuff.
– Also, Alex from Buttersafe shared some more awesome information with me, and gave out a cool sad bird comic book. If you didn't get one, you missed out!
– Special thanks to Dennis Kwok for coming out and showing support. Your claim jumping empty table tactics won us the day.
– Chris and Devin also spent a lot of time at the table. We didn't snag a pic, but here's a drawing for you fools.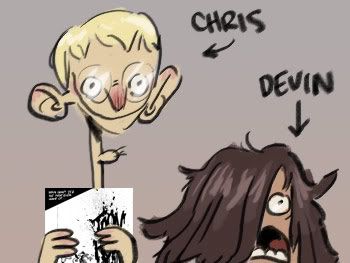 Well folks, looks like you'll have to wait until the next convention to get more comics or prints. We'll let you know when that happens. As for me, back to work.
Your pal,
Toonhole Chris